Landscaping around your pool is an important factor in the health of your pool water.  When planting, moving, or removing current plants or trees consider the amount of leaves and/or needles that may fall.  Even if they do not shed year round they may do so seasonally or when we experience high winds. An accumulation of tree debris in your pool can cause your PH to go out of balance and can max out the usefulness of your sanitizing chemicals such as chlorine.
Even trees and plants that don't shed leaves may shed blossoms, buds, and pollen dust that are problematic for your pool water, filters, and pump. 
Additionally, be mindful of
trees with large roots
or planted too close to your pool. This can be of concern as the root system can start to lift up the pool decking or grow into the side of your pool. 
Refrain from using fertilizer near the pool.  While fertilizer can be good for your lawn and garden, fertilizer can easily spread or get picked up in the wind and is bad for your pool.  Ingredients in many fertilizers include nitrates and
phosphates
which would react badly if mixed with chlorine. This could cause algae to form, among other things.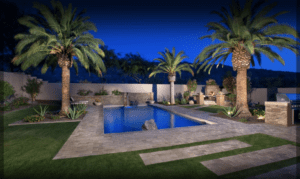 Note the position of your lawn furniture.  As you may have experienced, the wind in the Las Vegas Valley is strong enough that your furniture can end up in the pool.  Metals from the furniture may cause staining.
From time-to-time PoolStar may mention, or make suggestions about, the landscaping in your yard. We know your landscaping and pool are both important to you and we only bring up the topic when one has become problematic for the other. We appreciate any adjustments that you make so that we can keep your pool in top condition and we are grateful to be your choice in Las Vegas/Henderson/Summerlin swimming pool service providers. 
PoolStar is locally, family-owned and operated since 2006.  We are your go-to swimming pool cleaner for affordable pool service maintenance in Henderson, Anthem, Summerlin, Southwest, Northwest and more (some of our zip codes: 89123, 89120, 89052, 89015, 89012, 89121, 89014, 89141, 89113, etc).