Summer is upon us again in the Las Vegas Valley.  Those of us who are lucky enough to have a pool to cool off in are probably looking forward to taking a plunge, but how does the "100 days of 100" degrees affect your pool?
First and foremost, Hot weather is most likely to accelerate the process of pool water evaporation particularly in our area where high temperatures are also combined with dry air and low humidity and wind.
Second, your pool demands more
chlorine
in the height of summer.  Whether it is being added directly or your salt cell needs to produce it, chlorine can be very hard to maintain in high temperatures.  Not only is chlorine depleted by the sun from your pool, it is also used up more quickly due to higher pool use and working to keep algae and bacteria at bay in the warmer water.  Additionally, warmer temps often mean more use, and more use results in an increase in lotions and natural body oils from bathers which also send chlorine use into overdrive.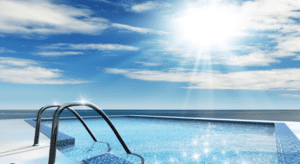 Third, in the high temps of summer we also have
scale-forming
problems with calcium carbonate contributing to scale build-up (this is why throughout the year, you may first see scale form in a warm spa or on a tile-line or spill-way).  For
saltwater pools
, your salt chlorine generator will form a scale like the pool itself but you may soon see "snowflaking" with white chunks of flake making their way into your pool through the return inlets.
What do we do about the higher temps?  As we all know, very hot days are a reality for us in the Vegas Valley so the first thing is awareness and understanding.  Your pool and your pool maintenance technician will be working even harder in the summer months to keep your pool in good condition. PoolStar technicians will be using all their expertise and all the tools in their toolkit.  Regular brushing, balancing your water, helping the chlorine do its work by adjusting cyanuric acid, adding algaecides and or
natural mineral units
and checking phosphate levels along with constant weekly water chemistry balancing are all part of the technician's job.
Working together we will 'beat the heat' and maximize your enjoyment of your pool.
As always, we are grateful to be your choice in Las Vegas/Henderson/Summerlin swimming pool service providers. PoolStar is locally, family-owned and operated for over 17 years.  We are your go-to swimming pool cleaner for affordable pool service maintenance in Henderson, Anthem, Summerlin, Southwest, Northwest and more (some of our zip codes: 89123, 89120, 89052, 89015, 89012, 89121, 89014, 89141, 89113, etc).